The IEP Team Members
The Federal law, called Individuals with Disabilities Education Act (IDEA)
defines the "IEP team" as a group of people who are responsible for developing, reviewing, and revising the IEP (Individualized Education Program) for a student with a disability. By law, these people include: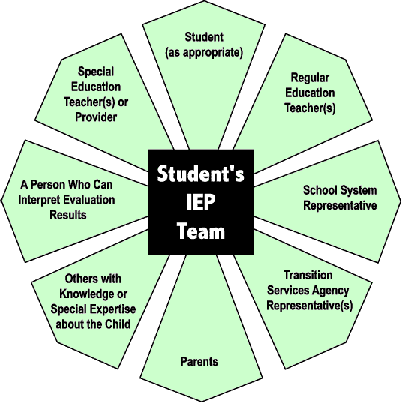 This wheel of IEP Team members, is from US Department of Education, Laws & Guidance, Special Education & Rehabilititive services.

Who Participates in IEP Team Meetings?
The parents of the student
The student, as appropriate (In Mass. student is invited to attend at age 14.)
At least one regular education teacher of the child, if the student is (or might be) participating in the general education environment.
At least one special education teacher or provider.
A representative of the local public agency (i.e. School Principle, School Administrator) who:

knowledgeable about specially designed instruction for students with disabilities,
the general curriculum,
the availability of local public agency resources.

Someone who can interpret the instructional implications of evaluation results (i.e. School Psychologist, Special Educator Teacher, Speech and Language Pathologist, etc.) who may be another team member.
Other people whom the parents or the school have chosen to invite, who have knowledge or special expertise regarding the child, including related service.
Collectively, the IEP team members should be knowledgeable about:
The student, available services
External and internal sources of assistance
The IEP process
IDEA reg. 300.321 - IEP Team
New addation with

IDEA 2004
IEP team attendance.
(i) Attendance not necessary.
A member of the IEP Team shall not be required to attend an IEP meeting, in whole or in part, if the parent of a child with a disability and the local educational agency agree that the attendance of such member is not necessary because the member's area of the curriculum or related services is not being modified or discussed in the meeting.

(ii) Excusal.--A member of the IEP Team may be excused from attending an IEP meeting, in whole or in part,
when the meeting involves a modification to or discussion of the member's area of the curriculum or related services,
if --
(I) the parent and the local educational agency consent to the excusal; and
(II) the member submits, in writing to the parent and the IEP Team,
input into the development of the IEP prior to the meeting.